Prepare to be disrupted. It's not a choice. It's the moment we're in.  Meteor is a new publication dedicated to the people, stories, art and ideas that are changing the world, from AI to Web3, crypto, VR and beyond.

Web3 brand advisor Matt Wurst on the Porsche NFT drop
"The one thing that hasn't come up at all... the art. Does that surprise you? Because it doesn't surprise me... The desirability or value of the token is in no way tied to the visual creative associated with the token. No one is saying "Yes, it's worth it because look at that art!" This is purely a token tied to experience now. – Matt Wurst, full interview below
Create
The End of Bad Kung-Fu Movie Dubs is Here
Badly dubbed movies has been a punch line for decades. AI is about to kick that problem to the curb. London-based Flawless AI visually translates film and TV into any language by matching mouth movements to translated dialog. More cool examples from Flawless here.
AI Art Experiment of the Day: Roboto Cat Comes Alive
We're fans of @pharmapsychotic, an AI creator who is always trying something new and teaching the community how to do it, like this ultimate list of AI tools. Check out this "experiment" where they have beautifully synched a DeforumDiffusion animation to change to the beat of music. See more of their art here.
Have artists and art projects we should feature? Send them to artpitches@thisismeteor.com
Dopamine Hits
Buzzfeed Seeks AI Lifeboat
The cash-strapped publisher will outsource its popular quizzes to ChatGPT, according to the WSJ. The new golden age of journalism it is not.
ChatGPT Goes to Washington
Congressman Jake Auchincloss asked the chatbot to write a speech as boring as a human congressman. It passed with flying colors.
Free Parking
Musician Arden Jones is selling NFTs of his 2021 hit "Parallel Parking" and using the money to pay off random people's parking tickets.
Getty Fights Em, Shutterstock Joins Em
While stock house Getty is suing several AI image firms for copyright infringement, Shutterstock is offering AI creation to its customers. The firm claims it trained the AI on it's own database of licensed images and will compensate creators for their work.  Take it for a spin here.
The Big Story
What the Porsche NFT Crash Means for Web3 and Brands... and Artists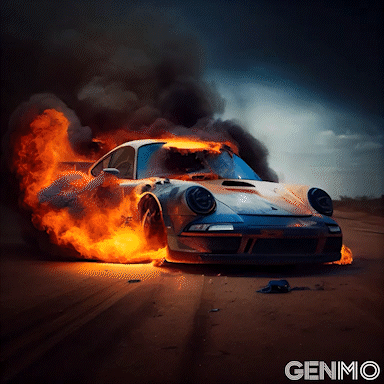 It should have been an easy race to the finish line, and cause for celebration among Web3 enthusiasts and NFT collectors. Built around its iconic 911 sports car, Porsche's Web3 debut offered NFT holders access to exclusive events and merchandise, as well as a vague invitation to "help design Porsche's future in the virtual world."
The price, at 0.911 ETH (natch), about $1,500, hit the brakes with both feet. By Monday afternoon, when it was clear the "drop" wouldn't come close to selling out, a 5,137-NFT pileup was burning on the highway (Porsche paused the sale and slashed the supply from 7,500 to 2,363).
Then, when the project finally got back on the road, a surprise floor price spike pushed it above 2 ETH by Thursday, with total sales nearing $5 million.
Spin out and recovery? Not so fast.
"The single biggest reason why this launch was a failure no matter what happens next is that they used a campaign to launch a community… instead of leveraging the community to launch a campaign," argues Meteor advisor Matt Wurst, a top Web3 brand consultant and the former Chief Marketing Officer of Mint, in a Q&A with Meteor co-founder and CEO Neil Katz. "That strategy has failed throughout the annals of marketing history."
The following is an edited transcript of a Telegram thread.
Neil Katz: Do you think the price might be helped by cutting the expected supply by two thirds? Is that a signal to collectors?
Matt Wurst: Absolutely - First off, not many projects can sell 2,300 NFTs at that price ($1.5k), in this market. So now there's a smaller, tighter group - more NFT enthusiasts than loyal Porsche folks, who see the limited supply and want in. [But] I don't see floor price as an indication of "community health" - and I don't expect this bounce to last. They sold, what, 25% of their initial totally?
NK: Do you think they benefit more from bringing Porsche fans into Web3 or Web3 fans into the Porsche brand?
MW: I don't think the current holders represent a strongly overlapping universe of potential/current Porsche drivers, but I think that will change over time. The offered experiences will create loyalty and affinity if handled well and those who want to flip a token to turn a profit are more likely to sell to real fans.
Porsche can still do with 2k holders what they planned on doing with a 7.5k supply. Ultimately, everything starts over again now. Drown out the press and Twitter feedback. They made mistakes, but move on.  I hope their fans - new and long-standing - in this specific subset of their broader audience community - are here for the experience, one that will become even more exclusive with the reduced supply.
Web3 is about community, and the Web2 community of Porsche was viable even though minimal pre-collaboration took place with them. So in some ways, this ended up "failing up." But their inversion of the campaign before the community made the point of building a community through the NFT, an actual misstep.
NK: You think the long term play for Porsche isn't selling NFTs (they netted around $3.5M in this mint), but rather building a community of Porsche fans that want to engage with the brand for exclusive experiences?
MW:  100%. Porsche annual revenue is in the billions.
Ultimately, I think VERY few brands should be selling NFTs right now. Engage fans, enlist new ones. Excite and entertain and educate.
NK: Ok. So you're CMO of Porsche. You have a vision. Build community first. NFTs second. What do you do exactly to make that real?
MW: Build equity. NFTs are still widely seen as either scammy or unknown, so Porsche could have educated their existing community about the opportunities with tokenization
NK: So perhaps give the NFTs for free but only to a limited set of 911 owners? Or maybe around their new electric car.  Make others hunger for the exclusive experiences (and digital asset) that only a few received.
MW: I think there are different token opportunities for different segments. Free to new buyers and existing drivers/owners. Sell others around other events or product launches to boost inventory and drive engagement and traffic.
MW: As CMO, I'd start better understanding my current community segments to learn their motivations and expectations:  drivers, aspiring drivers, racing fans, people who like the brand but can't afford a car, set value tiers for each with specific tokenomic models for each.
NK: In essence, token holders who drive engagement today might drive cars tomorrow.  And token holders who drive cars today, might drive them forever with a tokenized retention experiences.
MW: Yes sir - it's a feedback loop. Tokens as keys to access. Tokens as rewards for engagement. The one thing that hasn't come up all... the art. Does that surprise you? Because it doesn't surprise me.
NK: Expand on that.
MW: The desirability or value of the token is in no way tied to the visual creative associated with the token. No one is saying "Yes, it's worth it because look at that art!" This is purely a token tied to experience now.
Whereas Porsche's first foray into Web3 was 100% tied to art. They sponsored an IRL digital art NFT gallery experience in Times Square and other cities (7 or 8?) around the world to promote artists' 1-of-1 NFTs.
It was a borrowed relevance play purely for marketing purposes whereas this drop was about specific Porsche assets and the art became secondary. Maybe even tertiary.
Brands have a few models to enter the space. Porsche has now tried two of them.
I'd expect as more brands join the fray, art becomes less and less important.
Some will lean in - Mastercard, for example. Others will see it merely as a branding opportunity on top of an experiential loyalty-building opportunity. In the short-term, brands have to weigh exclusivity with inclusivity and accessibility.
NK: So we assume you'll be buying your Porsche NFT after this chat. Let us know what kind of mileage you get out of it.