Meteor's Guide to ETHDenver
By Evan Hansen
DENVER, CO – Meteor visited ETHDenver last week, the world's largest crypto gathering held annually for the past five years in the mile high city. It was our first time here and we were told to expect weird but apart from the occasional cringey performance and onesie-suited presenter it came off more like a regular nerd convention – more DIY than polished, incomprehensible to outsiders but essential for the in-crowd.
Call it a reverse mullet: Party in the front, all business in the back.
The event attracted over 30,000 attendees, double last year's count and a repudiation of crypto winter, at least for the true believers. Organizers said about half were crypto curious first timers, and at least some of the events, featured on the Bunny Slope stage, were geared towards newbies and absolute beginners.
There were too many talks and presentations to see or cover, more than six stages running simultaneously almost nonstop with back-to-back 20 minute sessions. Even Ethereum's godfather, Vitalik Buterin, was held to the relentless lightning schedule. He joined via a video call at 8:30PM on Friday evening and spoke to a packed arena, although Meteor opted for dinner instead (we listened to a recording later, recapped below.)
While there was definite excitement in the air, many of the presentations landed like staid (and boring) product pitches, and most of the discussion Meteor witnessed was deep in the weeds. Risks, lessons learned, "it's a work-in-progress" caveats, and general advice to lower expectations were common refrains.
Perhaps the biggest news was the launch of ERC-4337, or "account abstraction," an Ethereum upgrade that promises to simplify the entire crypto experience and make it more secure. It's been described as allowing crypto wallets to work just like regular bank accounts, but in a decentralized fashion.
This could be a very big deal, but it almost got lost amid the noise. In general, big picture and inspirational thinking did not take center stage often, if at all. If we missed it, let us know.
A major gap from our POV: the so-called quantum apocalypse, or the moment when a working quantum computer emerges that effectively renders all of our current encryption schemes obsolete. This is often brushed off as a far away threat, but this is a conversation that should be front and center for the crypto community. The effort and coordination required to deal with it, and the time needed to prepare, should not be underestimated.
Only one person representing a company building quantum secure encryption, BTQ, appeared on a list of dozens of speakers, despite steady advances in the field. While it may be years before quantum computers are capable of reliably generating large prime numbers, the basis of modern cryptography, it's a serious long term threat that will require a ground up re-working of most blockchain protocols. As of now only two blockchains claim such a capability.
Meanwhile, the US National Institute of Standards and Technology has been seeking proposals in quantum secure encryption since at least 2017, and it just put out a new call for papers on March 2, smack in the middle of ETHDenver. The general response was crickets.
Some Key Moments and Takeaways
On the lighter side
In keeping with a history of goofy performances, proceedings kicked off with a song dunking on SBF, Do Kwan and other notorious characters from the crypto scene.
SBF toilet paper
The Bufficorn
A fan favorite since Vitalik Buterin sported the outfit last year.
Maybe there is method in the cringe-worthy madness. Fringe behavior is a healthy sign of genuine community, argues Coindesk's David Z. Morris, a sentiment echoed by others.
Big Picture
The ETH crowd seems very focused right now on moving beyond DeFi (decentralized finance) into other real world applications, or "utilities" with broad social promise, although the tone remained doggedly pragmatic.
Buterin's keynote, ostensibly focused on "the next 10 years," stuck closely to practical roadblocks to mass adoption. He touched briefly on fees, which can be high and unpredictable, but noted several solutions are already being actively developed, notably zero knowledge rollups, or zk-rollups, a hot topic in themselves. (ZK proofs have a wide variety of applications beyond making markets more efficient, for example, in establishing decentralized anonymous identities, another popular subject.)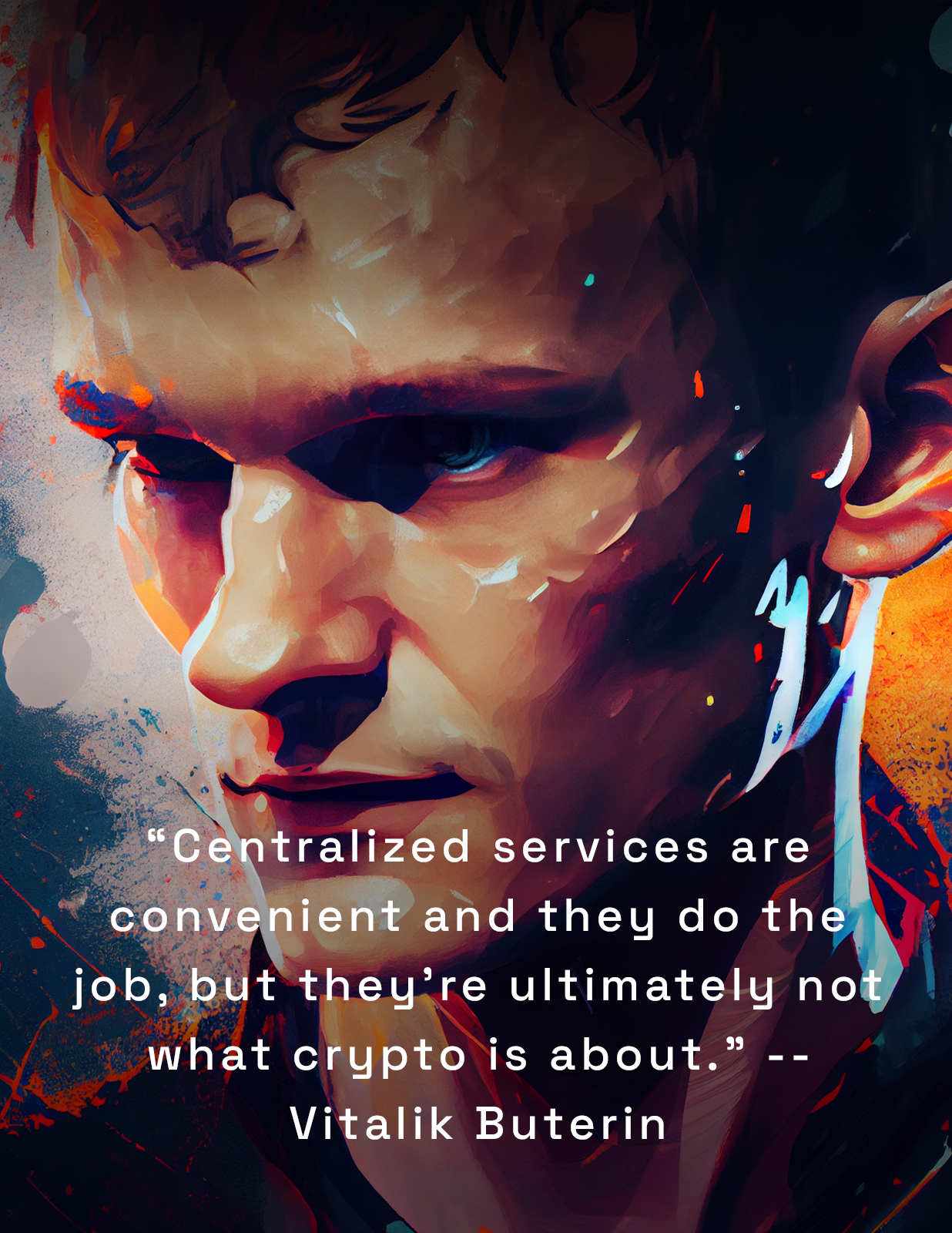 Buterin's talk prosaically focused on getting developers to prioritize improvements in the basic user experience, where transaction speed, reliability and verification currently can be a problem.
He also advocated for account recovery solutions to make it possible for people who lose their keys to regain access to their wallets, something he's advocated for years that is now possible with ERC-4337. It's estimated more than 532,426 ETH tokens have been irretrievably lost since the 2014 launch, a cache worth over $800M at recent prices, while more than 4 million Bitcoin, worth nearly $90B, have suffered the same fate.
Last, he pitched a proposal we covered on Meteor several weeks ago to enhance user privacy through so-called stealth addresses.
DAOs
DAOs were a big topic, especially lessons learned in distributed governance and legal frameworks. This stuff is harder than it looks.
ETH for Public Goods
The main concourse prominently featured a section for "Regenlandia," a nod to "regenerative crypto," or public goods projects that use blockchain to help build stronger communities (and a play on "degens" or the "degenerates" label diehard enthusiasts like to use to describe themselves).
At a side stage, numerous speakers teed up a series of talks on how to use Ethereum and blockchain to improve the world, for lack of a better phrase. Standing bare foot at the podium, Gitcoin co-founder Kevin Owocki drew a standing room only crowd as he explained his latest, a "ReFi" incubator to fund public goods projects.
With the recent flood of humiliating DeFi collapses, at least some are headed for the safety of higher moral ground.